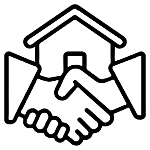 Martels Real Estate
RELOCATING TO OTTAWA?
Are you preparing for a military relocation? RCMP relocation?   Department of Foreign Affairs (DFAIT) relocation?   Government relocation? Work-related relocation? Feel pressure and stress as a transferee since you have to buy a home quickly and in a strange city? This can be a very hectic experience if your move isn't in the right hands.
---
The Martels have been helping over 1000 RCMP, Military and Corporate families relocate across Canada and the US since 1986. They excel at giving professional and efficient services along with the best possible advice, top negotiation skills and the least amount of pressure and hassle.
---
WHAT CAN THE MARTELS OFFER YOU?
To make our customers feel like they are the most important people in the world, because to us, they are. We accomplish this by delivering exceptional service, going the extra mile, and doing whatever it takes to go above and beyond our customers' expectations. We are committed to endow our clients with confident, comfortable and informed Real Estate decisions. It is our goal to ensure that our clients receive the very best opportunities, whether they are Buying or Selling.
---
Guaranteed HHT System includes:
Efficient, knowledgeable and personalized HHT planning, assisting you with the best Inspection services, lawyers and mortgage specialists
1-800 line to the Martels' customer service
Overnight courier with full listing search, buyer tips, hotel and school lists
Instant notification of Ottawa listings
Network contacts across Canada
Martels Real Estate Inc.
The Martels have been helping RCMP, Military, Corporate relocate across Canada & U.S. since 1986. Having moved many times themselves, they understand the pressure and stress transferees experience: coming to a strange city and having to make a housing decision in a short period of time. They have broadened their knowledge and expertise in this field by taking courses and have helped thousands of families relocating from all over the world.
---
"Relocation requires a lot of knowledge, experience and dedication," says Lucie. "We need to make it as efficient as possible for them, and we've been doing that for many years. We also conduct first-time homebuyer seminars, often one-on-one, to help new buyers learn, to provide helpful information about the marketplace, and to guide them through the process of buying their first home."
---
Helping RCMP, Military, Corporate...Relocate across Canada since 1986 From Casselman, to Kemptville, to Carleton Place
Are you ready to get your home sold today? Are you ready to find the home of your dreams, whether brand new or resale? Call the Martels first and find out more about their unique system, their successful programs, and their remarkable service. Let the Martels provide all the ingredients to cook up a deal for you!