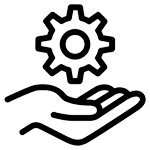 Best Foot Forward
Professional Resume Writing and Editing Service
Our goal is to help you put your best foot forward. We know what hiring managers are looking for and how to best present your skills to meet a potential employer's needs.
Managing Director Natalie MacLellan is a Certified Professional Résumé Writer (CPRW) with the Professional Association of Résumé Writers and Career Coaches and a Certified Résumé Specialist: Military-to-Civilian Transitions through Career Directors International. She has more than 15 years' experience as a writer and editor, working in public, private, and not-for-profit settings.
Natalie has frequently led or participated in HR teams: scanning résumés, conducting interviews, and hiring staff. Under her leadership, Best Foot Forward Résumé Services will prepare an expertly written document that will get you into the interview room
Let us put our writing and editing skills to use for you. Our writers have experience with preparing a range of documents, including media releases, newsletters, annual reports, corporate websites, blog posts and social media posts and much more.
About Listing
We have also experienced editors, ready to proof-read, improve or provide advice on business and academic documents.
Professional Resume Writing and Editing Service