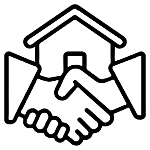 Andrew Murphy
MY MISSION IS TO DELIVER THE GOLD STANDARD IN CANADIAN REAL ESTATE
---
Andrew Murphy is a Veteran who served Canada for over 10 years which included a deployment to Afghanistan in 2010. As a CENTURY 21® REALTOR® and Veteran I will provide you with the highest quality dedication, commitment and integrity possible. My personal knowledge of the local real estate market is combined with the power of the CENTURY 21 brand – one of the world's most recognized names in real estate.
---
Andrew is a registered Third Party Service Provider through BRGS and he understands the importance of the military community especially during its Active Posting Season. Andrew primarily works the golden triangle targeting military moves between: Ottawa, Petawawa, Kingston - and everywhere in-between.
---
If you're selling / posted out, I will educate you on all market factors that may influence price and how to properly prepare and promote your property so you can make an informed decision that best benefits your needs. I will present you with a customized marketing plan using state-of-the-art technology to reach the broadest market, both locally and internationally, so your property can secure the best offer.
---
Contact me with any questions regarding the current real estate market or my services. I look forward to working with you!
About Listing
Andrew lives in Ottawa's trendy west-end neighbourhood of Westboro with his beautiful fiancée Devin, who is an HR advisor for National Defence at the Carling Campus. They have recently purchased a new home and will be relocating to Carleton Place.
---
If you're buying or posted in, Andrew can enhance your search process by helping you uncover what you may not have considered, whether it is schools, lifestyle, local amenities or the investment value of the property. Using our property search tools, you'll be able to find the home that best meets your needs. Finally, with my knowledge of the market, real estate expertise and negotiation skills, I'll help you get the best possible deal and handle all of the critical details.
---
Whether you are buying, selling, posted in or posted out, or relocating in the National Capital Region, Lanark County or the Ottawa Valley, the same dedication, commitment and integrity required by the CAF is what you can expect from Andrew Murphy to YOU!
---
With CENTURY 21 as one of the largest global real estate brands and our focus on the local market, we are confident that it will position you for success in your property sale. Contact me with any questions regarding the current real estate market or my services.
---
I look forward to working with you!
Please let me know if you have any questions,
Thank you very much,
Andrew